By its very definition, Waterlea is the marriage of water and land. Two essential life sources brought together to create a luscious urban oasis. This sustainable community is built around your connection to the environment and living your best life.
A BREATH OF FRESH AIR
–
At Waterlea, no two homes are the same. Designed to be something special for everyone, Waterlea's diverse floor plans, home sizes and styles provide a more natural neighbourhood feel – you know, when somewhere just 'feels' good. With views from most homes of parks and wetlands, or to the Dandenong Ranges, front gardens and backyards that spill out onto parks and tree-lined walkways. It's easy to forget you live in the city.
SMARTER LIVING
Waterlea leads the way in sustainable design, with the highest accreditation for liveability and sustainability. Clever floor plan design, strategic shading and smart insulation mean you'll spend less on artificial heating and cooling. While LED lighting, solar gas boosted hot water, a rainwater tank plumbed to the toilet and laundry, and electric vehicle charging in every home will help reduce your water, energy and fuel bills.
HIGH PERFORMANCE HOMES
–
Across all its homes, Waterlea will achieve a minimum 6 Star NatHERS rating. With construction and layout designed specifically for Rowville, you'll be more comfortable year round - and reduce your carbon footprint.
A BETTER STANDARD OF LIVING
–
Waterlea is a 6 Star Greenstar Community, which means it's
designed to meet the world's highest standards for liveability. We're
creating a community of like-minded people, where getting together
with neighbours and the surrounding community is effortless. It's
easy to leave the car at home, with bikeways and walking paths –
and as part of Rowville's established neighbourhood, local shops
and schools are within walking distance.
FORWARD-THINKING DESIGN
–
A selection of homes** have been specifically designed to Liveable
Housing Australia's silver standards to meet the needs of growing
families, older people and those with disabilities or injuries. This ensures
an inclusive and accessible community - for every stage of life.
OUR SOCIAL RESPONSIBILITY
–
To cater for low and moderate-income households, a proportion of
dwellings will be allocated for social housing, which will be seamlessly
integrated throughout the community. This is part of Stockland's
commitment to create social and economic opportunities for all Australians.
WELL-CONNECTED,
EASY TO EXPLORE
–
Approximately 32km from Melbourne's CBD, Rowville is
connected by regular bus services throughout the region
and beyond. By car, the M1 takes you quickly into the city,
while the Eastlink Freeway connects you to the glorious
Mornington Peninsula. It's perfectly placed to enjoy the
best of both worlds.
GATEWAY TO VICTORIA
A short drive away, you could explore the beautiful
beaches and wineries of one of Victoria's most popular
destinations, The Mornington Peninsula – or head the
same distance northeast to explore the Yarra Valley.
EXPLORE THE MOUNTAINS
Sitting in the foothills of the Dandenong Ranges,
exploring this treasured space can be a part of your
every day. With bike and walking path connections, these
beautiful ranges are an extension of your backyard.
CLOSE TO MELBOURNE
Regarded as one of the World's Most Liveable Cities by
The Economist, there is no shortage of things to do in
Melbourne. Renowned for it's fantastic restaurants and
vibrant art scene, it's also where the country hosts its
most significant sporting events.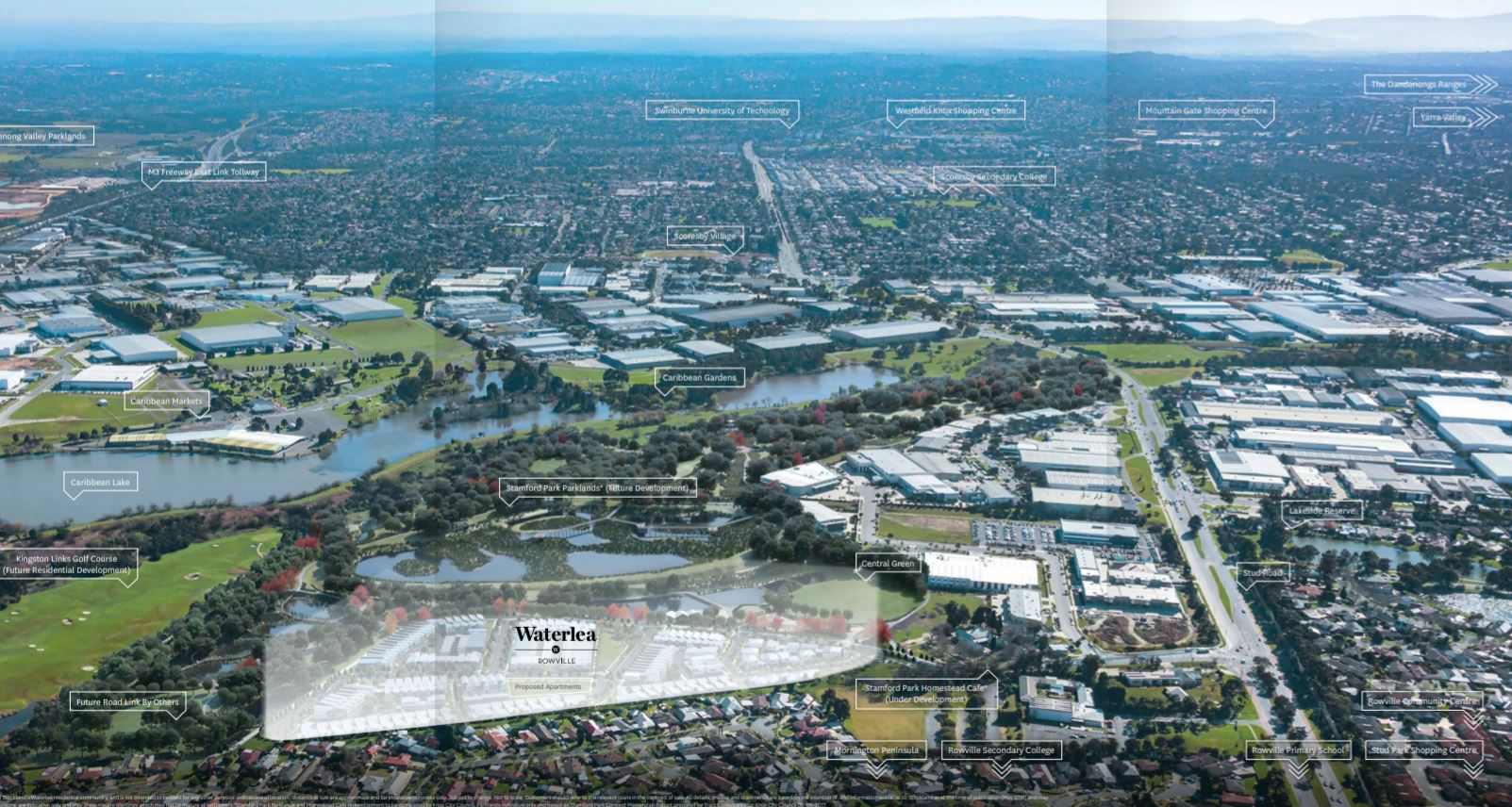 WELCOME HOME
–
With an individual and distinctive approach to contemporary
architecture, Waterlea will feel like an urban village.
Choose from 2, 3 or 4 bedroom townhomes and homes, each
with their own aspect and style. Some are single storey for easy
living, others offer two floors – with options to enjoy the upper
level views from your bedrooms or your living areas. There are
generous four bedroom houses for growing families, as well as
low-maintenance townhomes for all types of lifestyles.
Botanic Southbank
From $453,000
Live life in colour. Feel the excitement of the city, the thrill of the Arts Precinct and the calm of the Royal Botanic Gardens. This is your opportunity to live in a premium location within Australia's premier city. A short tram ride to food and fashion and
everything this cosmopolitan CBD has to offer. Even closer, Melbourne's famous Arts Precinctstages outstanding performances nightly. And across the road are the gardens regarded as among the best in the world.
Brickworks Burwood
From $390,000
Burwood Brickwords is a new place for the people of Burwood and beyond. A world leading retail space, exemplary architecture and living spaces, and expansive and lush public spaces combine to make this community-focused precinct one of the best in the world. Anticipated to be the most sustainable shopping center in the world, the retail precinct at Burwood Brickworks will offer residence the convenience of a full line Woolworths, 1,400 sqm Dan Murphy's, 6 screen cinema, and over 400 specialty shops right on their doorstep. 
TREVENNIAN, Glenroy
From $699,900
Glenroy is a suburb in the Moreland Region of Victoria. Glenroy has a population of 22,245 people and 31.42% of its occupants live in rental accommodation. The median listing price for houses is $680,000 and this has changed -2.86% over the past year and changed 30.84% over 2 years.
WATERLEA ROWVILLE
From $630,000
By its very definition, Waterlea is the marriage of water and land. Two essential life sources brought together to create a luscious urban oasis. This sustainable community is built around your connection to the environment and living your best life.
FOUND, CARLTON
From $400,000
With imaginative yet understand architecture that blends with its inner city location, found is surrounded by a wealth of amenities in one of Melbourne's most exciting neighborhoods. Found's living green facade with diverse materiality and stepped form enriches the distinctive Carlton streetscape.
ASPECT, KEILOR DOWNS
FROM $576,000
Reward yourself with comfort, enjoying a spacious, architecturally designed townhome located in the heart of Keilor Downs. Embrace the convenience of a refined, low-maintenance lifestyle close to shops, restaurants, transport and all that this established location has to offer. Relax in the knowledge that among this limited release of premium but affordable 2, 3 and 4 bedroom townhomes, you are one of the fortunate few.
TErrigal crescent
Kilsyth, Melbourne
Located between Sheffield Road and Cambridge Road, Kilsyth is just 36km east of Melbourne's CBD and lies in the local government area of the Shire of Yarra Ranges. Four townhouse residences, comprising of 2 & 3 bedrooms + study and spacious balconies. Avankar Design is an architecture design studio focused on planning and building solutions with an emphasis on ecological sustainability.
COMING SOON OPEN FOR ENQUIRY
OSBORNE, Preston
From $750,000
6 Osborne's premium finishes will satisfy the most discerning eye and residents love this sought after cosmopolitan suburb young singles and professionals. Preston has everything at its doorstep, from its proximity to the city, eclectic cafes, Northland Shopping Centre and a great local favorite... the iconic PrestonMarket.